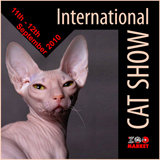 International Cat Show
"In peoples' opinion it doesn't matter if cats understand what we tell them; far more important is that they're here for us".
We invite You to International Cat Show at ZOOMARKET 2010 which is organised by Stowarzyszenie Miłośników Kotów "Jedynka" in Warsaw.
During 2 days of the Show You'll see more than 300 cats of over a dozen races and tens of color variants. Including fluffy Persians, popular Main Coons and rare Ocicats, Bengals, Sesels or Bobtails.
Also our regular home cats will be represented.
All the cats will be rated by respected board of judges from Italy, Austria, Scandinavia and Poland.
We sincererly hope that our Exhibition will give You new experiences and reflections. It is our goal for You to get in touch with the beauty and uniqueness of the animals' character.
International Cat Show 2009